Annual Conference
Our Annual Conferences have been a successful part of ILSA for many years.
• 2012 37th Annual Conference - held in Mayo (Dr. Rasanen) on Oct. 4-5
• 2013 38th Annual Conference - held in Kyoto (Dr. Nagasaka) on Nov. 14-15
• 2014 39th Annual Conference - held in Boston (Dr. Ishikawa) on Oct. 10-11
• 2015 40th Annual Conference - held in Saint-Petersburg (Dr. Dyachenko and Dr. Korenbaum) on Sep. 24-25
For more information on these conferences, please contact sadaishi@massmed.org (cc: sadamuishi@comcast.net).
The 2016 41st Annual Conference will be held in Tokyo, Japan (Dr.Takase and Dr.Kudoh) on October 7th to 8th.
Please click HERE for the information regarding the 2016 conference.
The location has also been determined;
・2017 42nd Annual Conference - held in Tromso, Norway, on Sep. 15-16
・2018 43rd Annual Conference - held in Los Angeles, USA
We are looking forward to seeing you there.


Call For Papers
Conference Venue/Accommodation
The 41st Annual Conference of International Lung Sounds Association (ILSA2016) will be held from October 7th to 8th, 2016, at the Ie-No-Hikari in Tokyo, Japan.
Convention Hall, Ie-No-Hikari : 11, Funagawara-machi, Ichigaya Shinjuku-ku, Tokyo 162-8448, Japan
The conference room will be "Convention Hall" on the 7th floor.
The venue of our conference, Ie-No-Hikari.
The accommodation will serve at "The Agnes Hotel and Apartments Tokyo".
http://www.agneshotel.com/foreign/e_access.html
MAP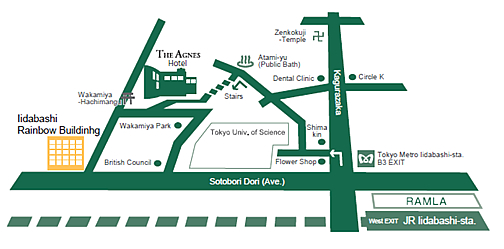 Note that the hotel booking has to be done by filling and sending the accompanying "Trip schedule form" before September 1st, 2016. A confirmation e-mail will be sent to everyone who responds to this request.
Official language: English
Abstract submission:
Original contributions to the clinical, experimental, analytical and computational aspects of biomedical acoustics are solicited. Topics of interest include, physical, biological and physiological modeling; computational and statistical processing and analysis; and quality assessment of acoustic signals measurable in the clinical environment such as cough, snoring, lung and swallowing sounds.
Presentations of clinical cases or transducer development are welcomed. All acceptable abstracts will be published in the proceedings of the conference and be made available online to ILSA members.
Abstracts should be prepared as up to 1 page text including optional accompanying figures and tables.
Please send your abstract in .doc or .rtf format via e-mail at:
ILSA2016@coac.co.jp and sadaishi@massmed.org
Deadline for abstract submission: August 19th , 2016
Notification of acceptance/rejection: September 1st, 2016
*We extended the deadline.
*For further information, please refer to http://www.ilsa.us/
Registration/Fees:
Registration will be held in front of the Convention Hall, Ie-No-Hikari, (7th Floor) on:
Friday, October 7th 8:30am - 6:00pm
Saturday, October 8th 8:30am - 3:00pm
Registration fees
$100 / ¥10000 : (Members/Non-members)
*Note that NO CREDIT CARD will be accepted.
Registration fee includes Get-together party and Lunch.
ILSA annual membership fee
$90 / ¥9000
*Note that NO CREDIT CARD will be accepted.
ILSA members are required to pay the membership fee (if it hasn't paid yet) followed by the ILSA2016 conference registration fee.
Certificate of attendance
Participants, duly registered, will receive certificates of attendance upon requests.
Social Events
Get-together party will be held on October 7th at The Agnes Hotel and Apartments Tokyo (Room"Agnes Hall", B1 Floor).
*Business meeting will be held around 3:00pm on October 8th .
Weather in Tokyo
In October, weather is mild and the temperature is between 19-27C.
Emergency phones:
In case of any difficulties, please contact the Conference Secretariat of ILSA2016
(c/o Convention Academia Inc.): Phone +81 3 5805 5261 / E-mail: ILSA2016@coac.co.jp
Fax: +81-3-3815-2028
I hope to have a joyful trip and am looking forward to meet you all in Tokyo.
All the best,
Presidents
Masato Takase, M.D.
Department of Pediatrics, Nippon Medical School
Shoji Kudoh, M.D.
Japan Anti-Tuberculosis Association